Clover Flex
The Complete POS System - On The Go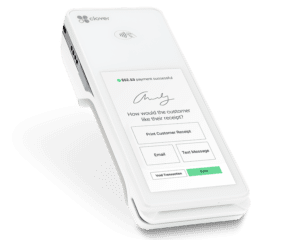 The smart, flexible POS device that's as dynamic as your business, ready to meet all your point of sale needs
Clover Flex is the all-in-one device with the built-in capabilities to help you serve customers better - whether at the counter, in line, at the table, or in the salon chair. Easy to hold and easy to hand over to customers to swipe, tap, sign, or enter a PIN, Clover Flex delivers the ultimate in flexibility and simplicity in a single device freeing your mind from the things that matter.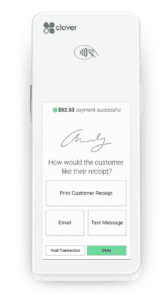 Superb Convenience
Built-in receipt printer and barcode scanner allow you to take electronic payments and signatures right at the table.
Reliability
Long lasting battery that provides up to 8 hours on a single charge. Fast and flexible cellular and wireless keep you connected, giving you ultimate freedom.
Knowledge is Power
Data driven support that allows you to effectively build loyalty programs, collect customer feedback, and send customer promotions in minutes.
Top Class Support
Built in safeguards help protect you and your customers from fraud with Clover Security. 24/7 Support is there when you need it.
Clover Flex Features
Fully featured portable solution that accepts EMV, PIN, NFC, and swipe. Now includes Apple Pay, without all the additional equipment
Embedded printer, camera, QR scanner and 3G/ Wi-Fi enabled
e-Signature capture
Fully integrated with complete line of Clover devices
Take an order in-line and close it at the counter, complete checkout at the table or in the aisle
Digital receipts help you keep track of your business without the mountains of paper
Specifications
Payments Accepted: Magstripe, EMV Smartcard, EMV Contactless (including Apple Pay)
Security Certification: PCI PTS 5.0
5-inch HD screen (1280 x 720)
Responsive capacitive touch screen for e-signature and PIN entry
Camera, Barcode scanner, and receipt printer
Wi-Fi Connectivity with optional 3G plan
Lithium-ion 15.96 Wh battery, with fast charging on Clover Flex cradle (included)